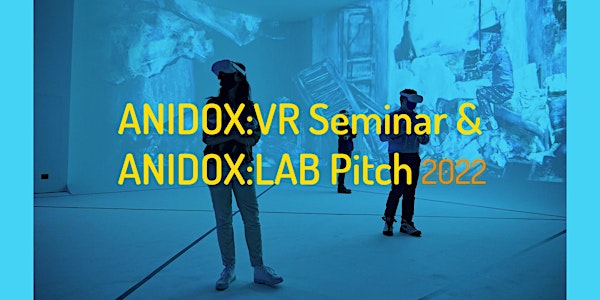 ANIDOX:VR Seminar & LAB Pitch 2022
ANIDOX:VR Seminar & ANIDOX:LAB Project Pitch- Viborg Animation Festival Animation, documentary and digital innovation.
When and where
Location
Galleri NB 14 Sankt Mathias Gade 8800 Viborg Denmark
About this event
ANIDOX:VR is an annual exhibition of non-fiction works in virtual reality and new media platforms. Hosted by the Viborg Animation Festival, ANIDOX:VR includes screenings, discussions, and events geared toward professional filmmakers and the general public alike.
The ANIDOX:VR jury awards a jury prize, celebrating the best of factual storytelling and craftsmanship.
The highlight of ANIDOX:VR 2022 is a dedicated ANIDOX Seminar programme with expert guests, artists and key figures from the art-meets-technology landscape - followed by a 'meet the artists' drinks & networking event. Seminar guests have the opportunity to attend the ANIDOX:LAB Project Pitch - where international directors present works-in-progress and get feedback from our panel of experts!
More info https://anidox.com/anidox-vr/
Guest panel:
Uri Kranot – Curator and moderator
ANIDOX, The Animation Workshop / VIA
Uri is a multimedia artist and co-founder of ANIDOX. He holds a key position at The Animation Workshop's Bachelor education as Adjunct Professor, alongside his work as researcher in the Center for Visual Storytelling. He is a member of the Academy of Motion Picture Arts and Sciences and the Académie des César. His works have been recently honored with the Grand Jury Prize for Best VR Immersive Work at the 77th La Biennale di Venezia and Best Immersive XR at the 74th Cannes Film Festival.
Simon Løvind - Jury and guest panel
Head of Games & Digital Media, Danish Film Institute.
Simon Løvind is head of the unit for Games & Digital Media at the Danish Film Institute. He is the commissioning editor and has been running and defining the cultural support scheme for games at the Danish Film Institute for more than 10 years. He has a work background in interaction design as well as game design and also produced interactive installation art. Simon has taken part in ANIDOX since 2019.
Klara Nilsson Grunning– Jury and guest panel
Film commissioner, Norwegian Film Institute
Emmy Award winning Klara Nilsson Grunning is a freelance content, production, distribution, financing consultant and executive producer for film, TV and cross media world-wide. Currently she is a film commissioner at the Norwegian Film Institute, previously she has been the documentary consultant at the Swedish Film Institute. Before which, she worked five years as the commissioning editor for documentary feature and short films at the Royal Danish Film Institute. Klara has been shaping and supporting ANIDOX projects since 2012.
Mathieu Gayet– Jury and guest panel
Commissioning editor, programmer and media producer
Mathieu is founder of XRMust, a new media outlet dedicated to immersive storytelling, with an international and professional audience of creators, producers and curators from the XR industry. He is also the curator of a 3-days workshop in Angoulême, Immersity, which invites +100 creative people from the immersive industry to discuss the future of the XR storytelling.
Guest Artists:
David Adler – Guest panel
Director of End of Night
David is a story-teller and his work is most often rooted in particular historical periods or events. Graduate of the National Film School of Denmark after having attended the Visual Arts & Design program at the Vancouver Film School. David is also an ANIDOX:LAB Alumni and guest speaker. His latest work 'End Of Night' was awarded at Venice Film Festival in 2021.
Pedro Harres - Guest panel
Director of From The Main Square
Pedro is a Brazilian director, scriptwriter and installation artist based in Berlin. Born in the city of Porto Alegre in 1984, he graduated in Cinema at UNISINOS, Philosophy at UFRGS and holds a master's degree from Babelsberg Film Universitaet Konrad Wolf. His project 'From the main Square' has been awarded at Venice Film Festival in 2022.
Emma Roberts and Ben Joseph Andrews - Guest panel
Producer / Director team of Gondwana
Emma s and Ben Joseph Andrews are a producer/director duo working in location-based virtual realities. Their work merges immersive technologies within bespoke sensory environments to generate unique experiences that verge on the transcendent and sublime.
Their collaboration began with The Moon Is Gone And All The Kings Are Dead, commissioned for the 50th anniversary of the Victorian College of the Arts. The duo has also completed two projects for City of Melbourne: sci-fi installation allthestarstheybleedtogether (2016) and STARLESS (2017). Their latest production Gondwana, has been highly acclaimed and is currently touring internationally.
For exhibition tickets (free with registration):
ANIDOX is a part of The Center for Animation, Visualization and Digital Storytelling, The Animation Workshop / VIA University College.
Supported by: The Danish Ministry of Research & Education, The Danish Film Institute and The Norwegian Film Institute, The West Danish Film Fund.
ANIDOX:LAB is supported by Creative Europe MEDIA