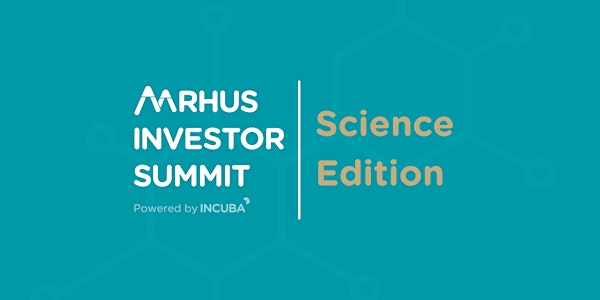 Aarhus Investor Summit | Science Edition
Aarhus Investor Summit | Science Edition connects university spinouts and investors.
By Aarhus Investor Summit
Date and time
Wednesday, May 18, 2022 · 2:30 - 7pm CEST
Location
Navitas Inge Lehmanns Gade 8000 10 Denmark
About this event
Aarhus Investor Summit | Science Edition connects investors with early stage spinouts and researchers looking to commercialize research-based inventions and solutions.
The summit offers investors a chance to network and explore business and investment opportunities in the field of science through pitch sessions and meet-and-match with both spinouts and up'n coming cases from Aarhus University.
The cases attending will cover a wide spectrum ranging from biotech & pharma to nanoscience and more.
When and where
May 18, 2022
Aarhus Investor Summit | Science Edition will take place at INCUBA Navitas in central Aarhus.
Who should attend
The event is for active equity investors and funds with an interest in science and commercialization of research.
Program
14.30: Registration
15.00: Welcome
15.15: Investing in spinouts - how to succeed. Featuring:
Mikkel Kongsfelt, Founder, RadiSurf
Simon Glerup, Founder, Draupnir Bio
Claus Hansen, Serial entrepreneur & investor
16.15: Pitches from three spinouts: VPCIR + Kripthonite Therapeutics + Bettasensing
16.30: Coffee break
16.50: Pitches from seven emerging spinouts:
Track 1 'Pharma & Diagnostics': Equilibrium Diagnostics + Seidun Therapeutics + 4C Filter       
Track 2 'Bio-Food Tech, Medtech and Sustainability': Safetravel + AIM + Green magnets + Aortic ring 
17.30: Meet and connect + network, wine and tapas
19.00: See you next time
Networking
A list of participants will be distributed ahead of the summit to support networking and enable you to reach out to relevant people prior to the event and pre-book 1:1 meetings.
Photos and video
A photographer will be present throughout the event. Photos and videos may be used in marketing of Aarhus Investor Summit on different communication platforms. If you do not want to be included, please let us know at info@aarhusinvestorsummit.dk.
Questions?
Please reach out to:
Ann Marie Søborg Karkov, Director of Communications, Community & Acceleration at INCUBA: amk@incuba.dk.